(Toke finally frags Waldon... and Waldon transforms into a running corpse with no respawn ability)
Toke stayed involved with Doom over the years, taking a few breaks due to life circumstances, but always returning to pick up more or less where he left off. He was involved in various projects and things right up until the day of his death in August, 2006. In general, Toke went to a bunch of LANs, hung out on IRC, got to know a whole lot of people, made a number of wads, and participated in Doom-related projects. He also occasionally annoyed some people, but was universally respected by everyone as a talented creator of good-flowing deathmatch and coop maps.
Toke was a naturally talented creator of deathmatch wads and unique coop wads. His maps are very original and have a natural appeal to players of all skill levels.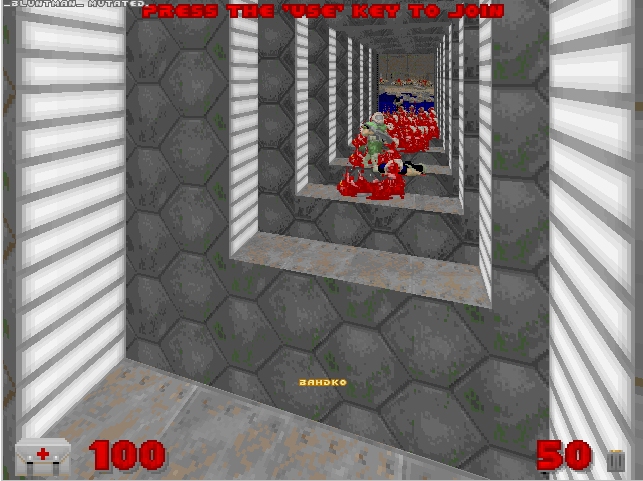 Coopbuild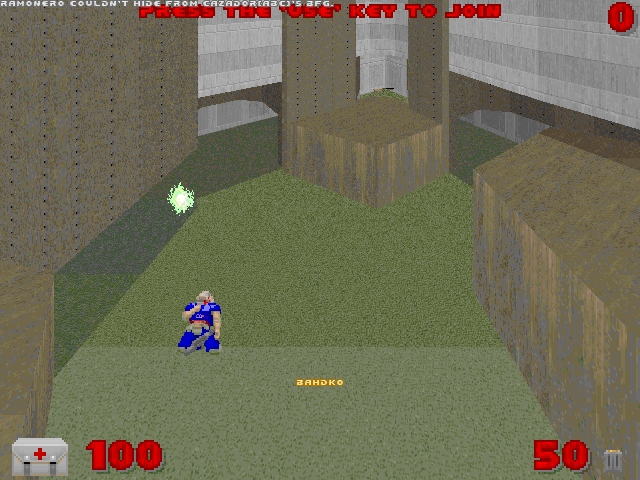 Moo2d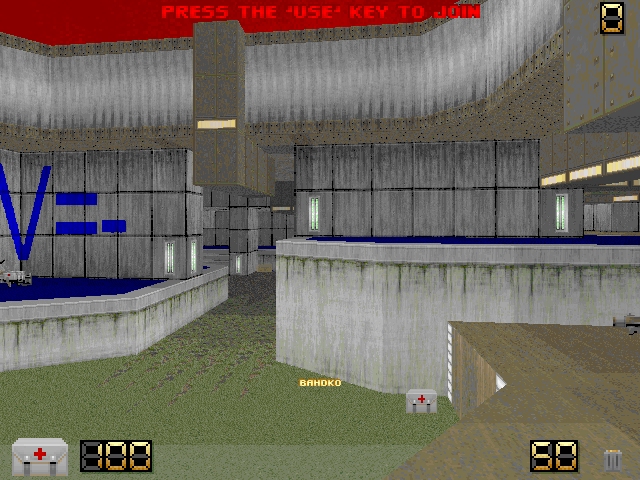 Vex-ZDaemon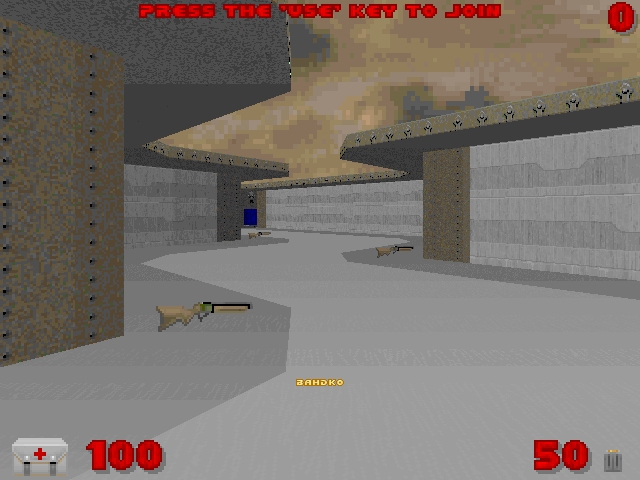 Omgmaps
More details about Toke's projects and wads will be posted here in the near future.
Pictures
Previously-unreleased pictures from my 2001 LANparty where I first met Toke are below. Click the images to view them full size.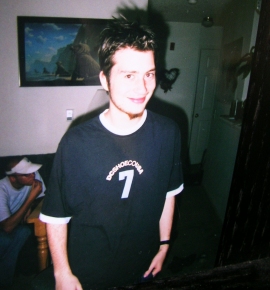 For pics from my 2003 LAN, see the
August, 2003 Lanparty documentation page
.
The Accident:



South Post Oak Road is a narrow, north-south, rural road with numerous blind hills. It is narrow such that two vehicles approaching one another must take care and pull off toward the sides of the road in order to effect the pass.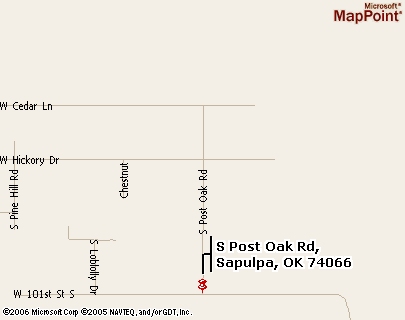 Near the southern end of this road, 19 year old Wayne Dickenson had a heated argument with his girlfriend and parents. He was a habitual abuser of a drug called Xanax which in its normal, legal use is a prescription mediation used to combat anxiety. He had recently taken two large doses of it called "bars" to get high. In a fit of rage after the argument, he took his mother's 1992 Oldsmobile Cutless Supreme without permission and began driving northbound at a high rate of speed on South Post Oak Road. He had no drivers license at all and the vehicle was uninsured. Vehicle forensics were to later reveal that the speedometer was maxed out at the top of it's indicated range of 100 MPH (161 KM/hr) and the vehicle's actual speed is likely to have been in excess of this.
Toke had just picked up his friend Joshua Hollingsworth (Josh) at his house, and was returning southbound along the same road at about 40 MPH (64 KM/hr). He was driving a white 2002 Oldsmobile Allero. They were starting out on a trip to drive about an hour north to pick up a new truck Toke had just bought for an online auto parts business he was starting up. Toke had a known reputation among his friends for being a safe driver, and both vehicle occupants were wearing their seat belts..
The two vehicles impacted near the top of a hill about halfway between West Hickory Drive and West 101st St. South. It was an extremely offset head-on collision in which the leftmost areas of the vehicles' front ends impacted one another. Toke's passenger (Josh) reports that their vehicle was as far right as was appropriate on the narrow road, and the Cutless Supreme is believed to have been in the center of the road. The driver's area of Toke's car exclusively bore the force of this impact.. The car spun 90 degrees and was flipped up onto it's right side, and was pushed back from the point of impact. The Cutless Supreme driven by Wayne flipped 4 times, end over end, and smashed into a telephone pole.
The driver's side of Toke's car was demolished by the impact, distorting the structure of the car and pushing the dashboard and steering column several feet into the passenger compartment. Both airbags deployed.
Josh reports that the onset of the accident was very fast, with no time to notice or even recognize an oncoming vehicle. For the purposes of human perception, the onset of the accident was instant.
Josh was initially rendered unconscious from the impact. When he regained consciousness, he tried to talk to Toke and take his pulse, but could not tell if there was a pulse due to his own heart rate being high. Josh crawled out of the car through the hole where the windshield had been, and sat down. He had a broken foot and cuts and bruises (he did not find out the foot was broken until 2 days later).
Wayne was able to get out of his mother's Cutless Supreme, despite being extremely injured. He had a crushed pelvis; ruptured his spleen, both kidneys, and bladder; internal bleeding; both legs broken (1 leg was all three bones the other was just the lower leg), crushed foot, broken wrist, broken arm (same side as wrist), head concussion, 3-4 broken ribs, a collapsed lung, and cuts and bruises. He was crying for his mom and begging for help.
Josh recognized that Toke was probably dead and that Wayne had basically killed him. He got up, hobbled over to Wayne, and kicked him in the head. Wayne appeared to be knocked unconscious as a result. Josh had resorted to the kick because he did not see a rock lying around nearby, and later explained that he was trying to get about a $200 kick and only was able to get about a $100 one.
A neighbor in the area arrived at the accident scene in about 10 minutes, and the paramedics arrived in about 30 minutes (the accident was in a very rural area). Wayne was airlifted to the hospital, and Josh went by ambulance.
Experienced drivers may already be aware of these details. This type of head-on collision is the most severe type that can possibly happen in terms of the driver's chances of survival, and most especially in this case, Toke's. In this accident, Toke's car was relatively stable in its position and direction on the road. The impact with the other vehicle delivered an extreme amount of force onto the driver's side of Toke's car. The relative stability of Toke's car on the road contributed to the transmission of the force of the impact directly through the car's structure, effectively holding the car in a more stable position while the force distorted and compressed the left side of the car. The other vehicle, due to the unstable nature of a vehicle moving at high speed, had some of the kinetic energy from the impact redirected into movement in other directions instead of being transmitted as directly through the vehicle's structure.
It's like, if you could kick a car hard enough to really damage it, it would be easiest to do the most damage with your foot if the car were sitting still with its parking brake on (extremely stable). If the car were flying past and you kicked at it, you would be likely to knock it to the side a bit with your kick because it's unstable and it's easier to push away from you while it's flying along. In that event, some of the energy from your kick is directly translated into force that would move the car sideways, causing the tires to slide sideways along the pavement, because the car has less traction and stability at a high rate of speed and is easier to push around.
I believe that the effect of this accident on Toke was that he did not know what happened and for all practical purposes died instantly. The forceful deceleration caused by the impact knocked him unconscious, and he died very quickly due to the force of the impact with the steering wheel.
At the time of this writing (late August, 2006), the driver of the other vehicle is still in the ICU of a local hospital. He is expected to be charged with things like dui (the Xanax), driving without a license, driving without insurance, and possibly vehicular manslaughter.
Media articles noticed:
News page 1
News page 2
News page 3
News page 4
News page 5
Death notice
Obituary
Newspaper .pdf
Doomers speak out
Two notable threads were made on the Doom message boards:
Skulltag forum
Zdaemon forum
Doomworld forum
A memorial music video at least named for Toke and posted in the forums (non-depressing):
One Toke Over the Line
Memorial video compilation made by Yarda (contains triggers)
remembering_toke.zip
Toke's Funeral
Pictures from the funeral have been made available by Ganja and are available for download
here
.
Zipfile contains pictures which may be triggering for sensitive people, including one discreet image of lying-in-state
.
Quasar attended the funeral, and made the following post in a thread on Doomworld:
I left from Shawnee at 10 AM, driving down I-40 amidst the indescribable beauty of Oklahoma during summer. The drive took 2 hours exactly, and I made one wrong turn in Tulsa thanks to some confusing Google Map directions, but I was able to get back on track fairly easily.

I arrived at Southern Hills Baptist Church at noon, which was an hour before the service started. At first I was a little regretful for showing up too early, but I went in and signed the guest book after a couple of minutes. One of the funeral directors ran into me and asked me if I wanted to sign the casket. His friends and family had already covered most of the lid with heartfelt messages. I added my own after reading a few of the others and trying to get my hand to be steady. It said something like this:

"Dylan, all your friends online miss you very much. We will never forget you. James Haley"

Just knowing that he was inside, resting peacefully as I wrote these words was a powerful but painful experience.

The casket was brown and was made of wood, and it was surrounded by bouquets of flowers, including a top spread with red roses. A sign apparently made by his sailing friends sat nearby and said "Dylan James McIntosh -- Waves of Life" or something similar to that (please forgive me for losing track of some of the finer details due to my emotions) and had pictures of him sailing. On two screens on the wall of the chapel his picture and name were displayed by projectors.

Some of his family members were the only ones present right then, so I took a seat further back in the chapel to avoid making anybody uncomfortable. Not very long after, a man who looked incredibly like Dylan but much older came into the room -- it was his father. He talked to a few of his relatives, and then noticed me and came over to me. I stood up and shook his hand and introduced myself, and explained how I met Dylan. He thanked me for coming and we shared a few more words, then he informed me the family was going to leave for lunch.

I went back out into the foyer and sat on a bench for a while and one of the funeral directors talked to me for a while. After not very long at all, people began arriving, so I went back into the chapel. In very little time almost the entire chapel filled up, and I estimate there were at least 200 people in attendance, with about equal numbers of friends and family.

Some jazzy rock music started to play softly, and I later learned that this was music from one of his favorite CDs. Once it was time to begin, they changed the music to his favorite song (unfortunately I don't know the name of it), and his family filed in.

After a moment of silence, the music died down and the two screens up at the front started to display a Life Story picture slideshow movie which detailed Dylan's life in a somewhat reversed order, starting with the same pictures that are on his tribute website, and then going on and on. I think there were probably a hundred pictures at least, and many of them were funny and made people laugh, while others made tears. I don't think there was a dry eye in the house after the first few. Many of the pics were of Dylan with his pets and doing many of his favorite activities, which included skiing, snowboarding, water skiing, and sailing.

After this finished, the Rev. Rick Watson talked for a long time, reading the obituary word for word and then adding much more of his own material, largely humorous anecdotes from Dylan's life. After he finished, family members and friends were invited to speak. Four or five people spoke in all, and each had different light, humorous tales to tell. One of his friends did break down after telling us about how without Dylan, he wouldn't have his job with computers or know anything about them. His father spoke the longest, and had 5 different stories to tell, mostly about some of the antics of Dylan's younger days, like when he sent up a model rocket stuffed full of firecrackers and accidentally set a soccer field on fire :)

After this was finished, prayers were offered, the casket was opened, and we began to file out one row at a time, stopping to speak with his parents. Dylan held a ratchet in one hand, a suggestion to his father from a friend that he should be buried with one of his beloved tools.

When my time to stand came, I moved out in the aisle and slowly walked in procession until I came to the front. After taking a moment to look at Dylan, which was really hard to do, I turned to his mother. She took my hand and I introduced myself to her saying "It's very nice to meet you," and taking a moment to say a few of the things I had earlier said to his father (he had actually already told her some of these things and reminded her when she almost confused me with somebody else). I told her these words:

"He had many, many friends online and we all miss him. But I will be sure to let everyone know how nice this was," and she thanked me. I then shook his father's hand again and left the chapel.

I attended the graveside service as well. He was buried in Memorial Park Cemetery, which was old and incredibly ornate with statuary and monuments. Dylan's casket was taken up to the grave site and set down, then his family was guided into the tent. Another prayer was offered, and then his family placed dozens of single red roses atop the casket one by one. Big red balloons were released to symbolize letting go, and then everybody just talked for a while. I waited a while to be respectful and then left quietly and made my way home, although not without leaving many tears along the long path.

All in all it was an incredible and deeply touching experience, and I am so glad to have had the chance to represent our community there. I didn't know all there was to know about Dylan, but what I did know about him I really liked. Soon we will move on and the shock and pain of this loss will fade, but like I wrote on his casket, we will never forget him.
Among the items he was buried with were:
His dad included a ratchet with a 10mm socket
His friends included things such as a fresh pack of camel special lights, a white lighter, drivers licenses, part of an old shirt, the business ATM card (business name: 138 Enterprises), some candy Toke always ate, firecrackers, and pictures.

Ganja's put in his drivers license, an Acid Bath tape, and an unopened copy of Doom Shareware.
Additional site credits:
Cody Cupps (Ganja) for accident details and funeral pics
Quasar's funeral discussion unabashedly stolen from the
Doomworld
forum