Winter, 2004 LANparty in Montreal, Canada
February 7 - 8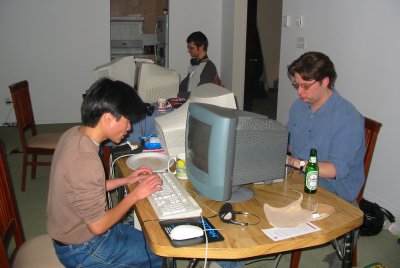 This Doom LAN was similar in form and function to the small Doom LANs held in Montreal throughout 1997 - 1999. It was held in Adoctor's newly-puchased apartment in Montreal, and as could be expected for February in Montreal, the snow was piled high outside. The attendees were: Adoctor, Galiu, Enrico, and Morpheus (local Montrealers), and BahdKo (Virginia, USA). Pictures and demos are below!
Click each image for a larger version

The Doomers


Hanging out on
left side of table


4way game about to start (Adoctor is through the doorway)


Galiu and plasma gun (Morpheus as likely
plasma recipient)


Morpheus and Enrico


Enrico in game



Julia, Adoctor's wife


Galiu


A funny frag, evidently

Demos from the LAN:
All demos are not up yet, they'll be added as I get time...
4-way D5 1 (Enrico, Morpheus, Galiu, BahdKo):
emgbd51.zip
2-way Map1 (Galiu, BahdKo):
bg2004.zip